Services
Portage Transport is a U.S. and Canadian bonded carrier, specializing in LTL / FTL, temperature controlled and hazardous shipments.
Portage Transport also has multiple certifications for all your transport needs including; Iron Apple, Smartway, and C-TPAT.
Click here to see Portage Transport at a glance.
Hauling
Full-service Logistics. Using a proven and complete network of transport and support services, Portage Transport Inc. provides logistical services for nation-wide and international shipping, access to dock and warehouse support, and full-service truck maintenance.
Our experienced team of logistics staff is highly organized and dependable. Our dispatch personnel includes Operations, Outbound Planning, Western US Dispatch, Midwest US Dispatch, Eastern US Dispatch, Western Canada Dispatch, Customs, Sales and more. Trace your shipment and utilize our customs specialist and we can help you see your shipment arrive where and when it needs to, as smoothly as possible.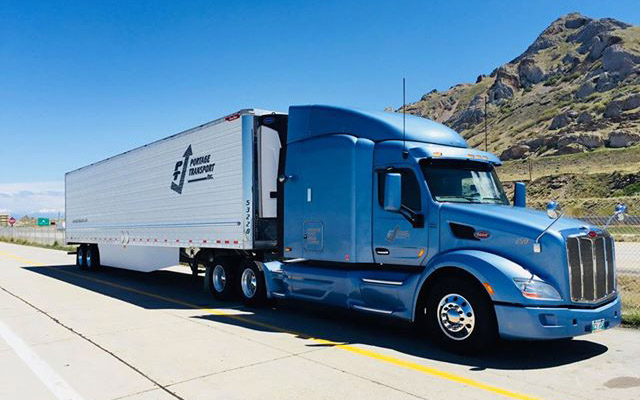 Take a load off while we take your load on – and make all the arrangements to get it where it needs to go, safely and on-time.
US-Canada Bonded Carrier. As a US and Canadian bonded carrier, Portage Transport ensures the transport of your goods is easy and hassle-free. Enjoy all the benefits that come with using a bonded carrier when you use Portage Transport. We can help you move goods "in transit" through Canada, using Canada as a fast-track shipping lane. In fact, our unique location in the very heart of the continent gives anyone needing shipping an ideal position from which to arrange shipping. Whether it is from coast to coast, to or from any mid-continent destination, Portage Transport makes sense – and saves you money.
Start your load from the US, and then transport it through Canada quickly and efficiently, continuing on to its destination in the US – all without requiring a release by Canada Border Services Agency. Contact us today to see if our Bonded Carrier services are right for you.
Near or Far. Serving both Canadian and US destinations, Portage Transport Inc. provides short and long haul carrier and freight transportation.
Big or Small. With both Less-Than-Truckload (LTL) and Full Truckload (FTL) transportation, Portage Transport shipping destinations span all of North America. Our rates on both types of transport are competitive and can offer significant benefit depending on where your load is starting from or going to. Call us today for more information.
Types of Goods. While Portage Transport hauls a wide variety of goods, our specialty is in shipping two main types of products:
Food Grade Products – dry food goods or shipments requiring temperature-controlled environments.
Hazardous Materials – responsibly transporting hazardous materials requiring the highest standards in safety.
Units and Trailers. Portage Transport uses tractor and trailer makes of all kinds, less than five-years-old, including both company-owned and owner-operator setups, including:
Company Reefers
Company Dry Vans
Company Tridem Reefers
Owner Operator Reefers
---
Trucker/Trailer Shop
We have Truck and Transport Mechanic - Red Seal on staff and are a MPI certified Safety Inspection Station for Heavy Trucks and Trailers.
Shop Rates are $110.00 / Hour.
---
Wash Bay
Portage Transport features a convenient wash bay on site. Rid your truck and trailer of the build of dirt and grime – and de-icing chemicals and road salt in winter! – and you will extend the life of your equipment. And because Portage Transport specializes in food products and hazardous materials, we know how important it is to maintain the highest level of cleanliness possible. Refrigerated trailers are especially important to sanitize to ensure mildew and mold do not pose a risk any shipment.
How often you wash out depends on the goods you are carrying, but when you need a wash the most to not lose time – and money – on your load, we've got you covered. Best of all, our wash bay length is 90-feet long – no need to unhook! Call for rates!
Wash Bay Pricing
All pricing per unit - GST included
Unit
Standard
Soap
Wash
Brush
Soap
Wash
Semi Tractor
$65.00
$80.00
Cargo Truck / 5 ton
$100.00
$125.00
Outside Van / Reefer
$55.00
$80.00
Inside Van / Reefer
$35.00
$55.00
Outside Hopper Trailer
$65.00
Inside Hopper Trailer
$40.00
Outside Super B
$65.00
Inside Super B
$40.00
Washes by Request
$1.15
per minute
---
Warehouse
Warehousing is also now easier than ever in the new certified facility at Portage Transport Inc. On top of our temperature-controlled and specialty features for shipping food goods to the highest standards, Portage Transport also features a third party audited food grade warehouse. Our warehouses are maintained and certified so you can be sure your food goods are safe and handled correctly! Contact us for more details today!
---
Load Cross Docking
Headache-free hauling can be yours when you let our staff handle all of the logistics of your load. Need your materials unloaded from one incoming transport to another? Does your load need to be divided to ship off to smaller loads headed to different locations? We can handle that, find short-term warehousing, and load it up again, and whatever needs doing to get the job done efficiently.

---