WINNER OF 2013 OUTSTANDING MEDIUM BUSINESS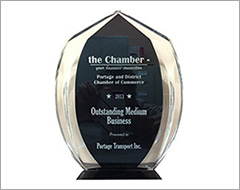 At the Portage and District Chamber of Commerce Best Business Awards Gala held October 25, 2013, Portage Transport Inc. was the recipient of the Outstanding Medium Business Award. This award recognizes the business achievements of a company with 25+ employees that has excelled over the past year in key areas including: outstanding customer service that has positively impacted the community; recognizing opportunities and accepting challenges in the business's industry; and community involvement.
Portage Transport thanks the Chamber and the Portage business community for this much-appreciated recognition of our business.
More details on this year's award can be found at portagechamber.com.